Tired of dodging pot holes and driving down uncomfortable roads?
Road stabilization prevents pot holes by binding the road material together to create a firm road and smooth driving surface. Unlike other products, our road stabilization products soak deep into the dirt forming a stronger road that stabilizes the top layers as well as the road base. This creates long lasting road stabilization and not just a crust on top of the road that would quickly be torn up and wear out.


Road Stabilization
• Provides smooth, safe roads for the public
• Reduces money spent on vehicle maintenance due to ruff roads and dust
• Saves money on aggregates and frequent grading
State and county government agencies are now some of our largest accounts and use our products on a yearly basis. Their main reason for using our dust control products is for the road stabilization effect, having no dust is just an added benefit.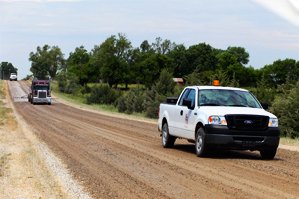 Verlin Van Zee, Assistant Road Supervisor of Lakes Highway District in Idaho stated, "Magnesium Chloride has reduced road grading from two or three times per month to one or two times per year."
Reducing road grading that much was huge cost savings for the Lakes Highway District.  Their savings were dramatically increased even more by not having to re-gravel in over nine years.
Free Quote – Fill out the form or call 253-237-DUST (3878)
Road Stabilization Service Areas:
The leading provider of road stabilization solutions in the Portland OR Region – (503) 218-3878 Our road stabilization products in Portland OR provide proven results for industrial and residential applications
The leading provider of road stabilization solutions in the Carson OR Region – (503) 218-3878 Our road stabilization products in Carson OR provide proven results for industrial and residential applications
The leading provider of road stabilization solutions in the The Dalles OR Region – (503) 218-3878 Our road stabilization products in The Dalles OR provide proven results for industrial and residential applications
The leading provider of road stabilization solutions in the St. Helens OR Region – (503) 218-3878 Our road stabilization products in St. Helens OR provide proven results for industrial and residential applications
The leading provider of road stabilization solutions in the Astoria OR Region – (503) 218-3878 Our road stabilization products in Astoria OR provide proven results for industrial and residential applications
The leading provider of road stabilization solutions in the Seaside OR Region – (503) 218-3878 Our road stabilization products in Seaside OR provide proven results for industrial and residential applications
The leading provider of road stabilization solutions in the Hillsboro OR Region – (503) 218-3878 Our road stabilization products in Hillsboro OR provide proven results for industrial and residential applications
The leading provider of road stabilization solutions in the Tillamook OR Region – (503) 218-3878 Our road stabilization products in Tillamook OR provide proven results for industrial and residential applications
The leading provider of road stabilization solutions in the Albany OR Region – (503) 218-3878 Our road stabilization products in Albany OR provide proven results for industrial and residential applications
The leading provider of road stabilization solutions in the Corvallis OR Region – (503) 218-3878 Our road stabilization products in Corvallis OR provide proven results for industrial and residential applications
The leading provider of road stabilization solutions in the Eugene OR Region – (503) 218-3878 Our road stabilization products in Eugene OR provide proven results for industrial and residential applications
The leading provider of road stabilization solutions in the Beaverton OR Region – (503) 218-3878 Our road stabilization products in Beaverton OR provide proven results for industrial and residential applications
The leading provider of road stabilization solutions in the McMinnville OR Region – (503) 218-3878 Our road stabilization products in McMinnville OR provide proven results for industrial and residential applications
The leading provider of road stabilization solutions in the Gresham OR Region – (503) 218-3878 Our road stabilization products in Gresham OR provide proven results for industrial and residential applications
The leading provider of road stabilization solutions in the Salem OR Region – (503) 218-3878 Our road stabilization products in Salem OR provide proven results for industrial and residential applications
The leading provider of road stabilization solutions in the Vancouver WA Region – (503) 218-3878 Our road stabilization products in Vancouver WA provide proven results for industrial and residential applications
The leading provider of road stabilization solutions in the Longview WA Region – (503) 218-3878 Our road stabilization products in Longview WA provide proven results for industrial and residential applications
The leading provider of road stabilization solutions in the Centralia WA Region – (253) 237-3878 Our road stabilization products in Centralia WA provide proven results for industrial and residential applications
The leading provider of road stabilization solutions in the Olympia WA Region – (253) 237-3878 Our road stabilization products in Olympia WA provide proven results for industrial and residential applications
The leading provider of road stabilization solutions in the Tacoma WA Region – (253) 237-3878 Our road stabilization products in Tacoma WA provide proven results for industrial and residential applications
The leading provider of road stabilization solutions in the Auburn WA Region – (253) 237-3878 Our road stabilization products in Auburn WA provide proven results for industrial and residential applications
The leading provider of road stabilization solutions in the Puyallup WA Region – (253) 237-3878 Our road stabilization products in Puyallup WA provide proven results for industrial and residential applications
The leading provider of road stabilization solutions in the Bremerton WA Region – (253) 237-3878 Our road stabilization products in Bremerton WA provide proven results for industrial and residential applications
The leading provider of road stabilization solutions in the Port Angeles WA Region – (253) 237-3878 Our road stabilization products in Port Angeles WA provide proven results for industrial and residential applications
The leading provider of road stabilization solutions in the Aberdeen WA Region – (253) 237-3878 Our road stabilization products in Aberdeen WA provide proven results for industrial and residential applications
The leading provider of road stabilization solutions in the North Bend WA Region – (253) 237-3878 Our road stabilization products in North Bend WA provide proven results for industrial and residential applications
The leading provider of road stabilization solutions in the  Issaquah WA Region – (253) 237-3878 Our road stabilization products in  Issaquah WA provide proven results for industrial and residential applications
The leading provider of road stabilization solutions in the Bellevue WA Region – (253) 237-3878 Our road stabilization products in Bellevue WA provide proven results for industrial and residential applications
The leading provider of road stabilization solutions in the Seattle WA Region – (253) 237-3878 Our road stabilization products in Seattle WA provide proven results for industrial and residential applications
The leading provider of road stabilization solutions in the Everett WA Region – (253) 237-3878 Our road stabilization products in Everett WA provide proven results for industrial and residential applications
The leading provider of road stabilization solutions in the Redmond WA Region – (253) 237-3878 Our road stabilization products in Redmond WA provide proven results for industrial and residential applications
The leading provider of road stabilization solutions in the Marysville WA Region – (253) 237-3878 Our road stabilization products in Marysville WA provide proven results for industrial and residential applications
var _gaq = _gaq || []; _gaq.push(['_setAccount', 'UA-22892562-1']); _gaq.push(['_trackPageview']);
(function() { var ga = document.createElement('script'); ga.type = 'text/javascript'; ga.async = true; ga.src = ('https:' == document.location.protocol ? 'https://ssl' : 'http://www') + '.google-analytics.com/ga.js'; var s = document.getElementsByTagName('script')[0]; s.parentNode.insertBefore(ga, s); })();